These are the most interesting cars that will be launched in the next years
2023-02-16 09:48:30
Author:
Nova Rent a Car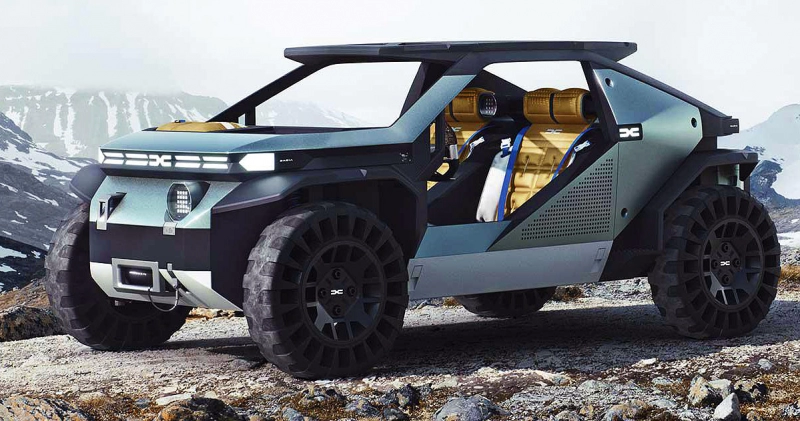 The world of cars has gone crazy lately and the Iasi airport car rental office Nova Rent a Car presents you with the most important details about the new American Rolls-Royce, an exotic hydrogen car from Alpine, an electric Jeep with 600 horsepower and even an armored SUV equipped with real gadgets from James Bond movies. But there are other, perhaps even more interesting cars that have just been revealed, and which we will remind you of in this article.
This is the new Cadillac Celestiq, and it's a brand new ultra-luxury electric car that will compete with the likes of the Mercedes EQS and even the new Rolls-Royce Spectre. It looks incredible on the outside, and while most automakers tweak their concepts in a more conservative fashion for mass production, Cadillac doesn't either. This car looks like it belongs in the metaverse not on public roads. The interior looks equally futuristic, clad in luxurious materials and a 140-centimetre diameter digital touchscreen that spans the entire dashboard just like Mercedes' hyperscreen. The Cadillac Celestiq is equipped with two electric motors that develop 600 horsepower and 870 Nm of torque similar to the Rolls-Royce Specter that has 585 horsepower and 900 Nm. The Celestiq accelerates from 0 to 100 km/h in just 3.8 seconds, 0.5 seconds faster than the Specter and in addition it will cost less, namely 280 thousand euros, it seems a lot but still it is almost 60 thousand euros more less than Rolls-Royce's asking price for the Spectre. Customers of the new Cadillac Celestiq will receive a team of designers to help them choose the perfect specifications for their new purchase, just like the manufacturer Rolls-Royce does for its customers.
Pictured above is the Polestar 3, and it's the most powerful electric car ever built by the Swedish automaker. Customers who choose the optional "Performance" package will enjoy two electric motors that together develop 517 horsepower and a torque of 910 Nm. The car has all-wheel drive and reaches the speed from 0 to 100 km/h in just 4.7 seconds. But the standard version is also fast, its two electric motors that offer all-wheel drive together develop 489 horsepower and reach the speed of 100 km/h in 5 seconds. The infotainment touchscreen has a diameter of 37 centimeters, is placed in the portrait position and the latest generation Android operating system runs very quickly on it. Customers have the optional "Pilot" package that enhances the car's safety systems by adding a Lidar, three video cameras and four ultrasonic sensors that help it identify potential hazards. All Polestar 3 models are equipped with 111 kWh batteries that offer an autonomy of 610 km. If all this sounds good, potential customers can order this car right now, and its price starts at 90 thousand euros.
Renault has just unveiled the electric 4Eever Trophy pictured in the article, and it looks like a prop from a movie set in the future. Renault 4Ever Trophy is an SUV concept that shows us what the future electric car from the French manufacturer will look like. Its design is inspired by the classic Renault 4 model, but instead of an internal combustion engine, this retro SUV will be equipped with a state-of-the-art electric propulsion system. It will most likely borrow the electric motors and batteries from the Renault 5 Reborn model.
The Alpine Alpenglow is a hydrogen-powered single-seater concept that shows us what the French automaker's future road and racing cars will look like. This is not a hydrogen cell car like the Toyota Mirai because the Alpine Alpenglow has an internal combustion engine that actually burns hydrogen instead of using it to produce electricity. This technology probably won't appear in a production car too soon, but some of its design elements could make it to the new A110 model and the new electric SUV.
In the picture above is the Rezvani Vengeance model that Nova Rent a Car Airport Iasi agency recommends you buy if you want a four-wheeled hopper. It was born as a Cadillac Escalade but then Rezvani replaced its body with his own military-inspired bunker on wheels. The Vengeance can be purchased with the same optional military package as Rezvani's other SUV called the Tank. It has features that include bullet-proof windows, door handles that electrocute would-be thieves and a smokescreen straight out of James Bond movies that makes the car invisible to onlookers. How much does all this cost? The standard Vengeance will cost $250k, that's a lot but at least their owners will have somewhere to hide if they are harassed by debt collectors.
Recently, the domestic car manufacturer Dacia presented an SUV concept that has no windows or even doors, so it is certainly not armored like the Vengeance model. It's called the Dacia Manifesto, and it shows us what a simple off-roader could look like in the future when we're all driving electric cars. It is equipped with airless tires that cannot be punctured if the car is driven on sharp stones and with a single headlight to keep the weight as low as possible so that the range is greater. This beacon is detachable and can be used as a camping torch. Much of the car's interior is made up of recycled materials and the entire cabin is waterproof so it can be hosed down if mud gets inside or left outside in the rain.

For NON-STOP reservations please contact us:
0765.237.772
contact@nova-rentacar.ro