The first Mercedes Maybach electric SUV has been revealed
2023-05-02 12:45:14
Author:
Nova Rent a Car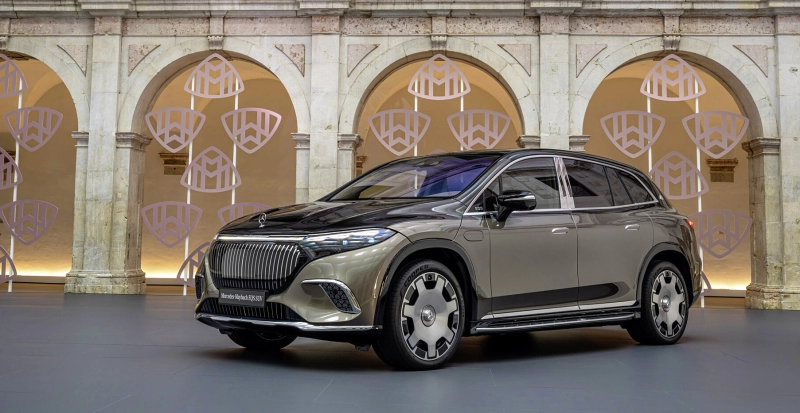 The Mercedes-Maybach EQS SUV 680 has just been unveiled at the Shanghai Auto Show, it is an innovative and particularly interesting model, being the first mass-produced electric model in the history of the Maybach brand and the Nova Rent a Car airport Iasi office tells you everything you need to know about it in this article. The EQS Maybach SUV is an example of the new direction the automotive industry is taking towards electric vehicles, without compromising on luxury and performance. With an impressive exterior design and a particularly luxurious and technological interior, the new Maybach EQS SUV S680 proves that Mercedes-Benz remains one of the leaders in automotive design and innovation. This electric SUV is an impressive model that represents a balance between energy efficiency, performance and luxury, offering an unparalleled driving experience for those who value quality and comfort.
The Mercedes-Maybach EQS 680 is a luxury SUV with an impressive exterior design that has been created to combine classic elegance with advanced technology and electric performance. The exterior design of this Maybach EQS SUV is inspired by the EQS sedan model, and the Nova Rent a Car Iasi company informs you that it adds a touch of sophistication with details such as the "Maybach" nameplate and the grille with Swarovski crystal effect. This is a long-wheelbase version of the EQS model and is approximately 5.4 meters long, offering an imposing appearance and generous space for passengers and luggage. The Maybach EQS SUV 680 is a "strong and bold presence", with a wide radiator grille and a sloping roofline that give the vehicle a sporty look. It is also available in a wide range of colours, including elegant silver, black or white tones. The new Maybach EQS SUV 680 is equipped with 22-inch alloy wheels and features an exterior lighting package that provides accompanying lights and ground lighting. These features are intended to enhance style and improve comfort when boarding and disembarking. The exterior design of the Mercedes-Maybach EQS SUV 680 is one that combines beauty and refinement with advanced technical features, offering an imposing and sporty look that is sure to catch the eye in traffic.
The interior of the new Mercedes-Maybach EQS 680 SUV is impressive, offering a combination of advanced technology, comfort and refined luxury as expected from a Maybach model. According to the sources of the Nova Rent a Car Iasi Airport agency, this model has a spacious, comfortable and luxurious interior, which emphasizes the quality and elegance of the materials used. Depending on customer preferences, there is a wide range of high-quality materials available, such as leather, wood or crystal glass. The MBUX Hyperscreen screen, presented for the first time on the EQS model, is also present on this Maybach EQS SUV, it has a diagonal of 142 centimeters and spans the entire width of the dashboard. It offers an intuitive and customizable interface that allows controlling many of the car's functions through gestures or voice commands. The interior of the Maybach EQS SUV is equipped with several advanced features such as ventilated and heated seats, premium audio system, panoramic roof and an ambient lighting system, which can be customized according to the preferences of each customer. In addition, this model also has an air filtration system and an ionization system, which contribute to maintaining a healthy and comfortable indoor environment.
The rear passengers of the new Mercedes-Maybach EQS SUV 680 have access to a wide range of equipment and personalization options to choose their travel experience. One of the available options is the rear seat comfort package, which includes, among other things, a dual-screen in-flight entertainment system, climate control, customizable ambient lighting and cup holders. There's also a Luxury Package for the rear seats, which offers a fridge and silver-plated cups, wireless phone charging, USB ports and electrically adjustable footrests. The rear seats of the new Mercedes-Maybach EQS SUV are some of the most luxurious and comfortable in the automotive industry. They are designed to provide maximum comfort for rear passengers, with plenty of legroom, adjustable lumbar support and massage functions. The interior of the new Mercedes-Maybach EQS680 SUV offers an experience of refined luxury, combining cutting-edge technology, comfort and quality materials to create a spacious and comfortable environment where passengers can enjoy a pleasant and relaxing journey.
The audio system available on the new Mercedes-Maybach EQS SUV is a high-quality one, developed in collaboration with the Burmester team, a well-known name in the luxury audio industry. The audio system has a total power of 1,750 watts and is composed of 30 speakers that provide a clear and powerful sound. In addition, the audio system comes with noise canceling functionality that filters out background noise to provide the clearest and most enjoyable audio experience.
Maybach boasts that the leather in the new EQS SUV is treated naturally. More specifically, the Nova Ia?i airport car rental agency discovered that the skin is treated with olive tree leaf extracts, which are said to have moisturizing and UV protection properties. The natural leather treatment process used by Maybach is called "Leaf" and involves the use of a mixture of natural plant extracts, which are applied to the leather to give it additional moisturizing and protective properties. This process should ensure a softer and more pleasant skin to the touch, but also greater durability and resistance over time. Maybach also uses other natural materials, such as wool and wood, to provide the most luxurious and comfortable interior. These materials are processed and finished by hand so that each car is unique in its own way.
The new Mercedes-Maybach EQS SUV 680 comes equipped with an electric propulsion system that includes two electric motors that develop 680 horsepower and a maximum torque of 1050 Nm. This engine allows the new SUV to accelerate from 0 to 100 km/h in just 4.5 seconds, and the maximum speed is electronically limited to 250 km/h. The battery capacity is 105.6 kWh, which provides an autonomy of up to 610 km according to the WLTP standard. The car can also be quickly charged at high-power charging stations, going from 10% to 80% in just 25 minutes. In addition, the new Maybach EQS SUV can be charged at a normal outlet or at an AC charging station with a maximum charging power of 22 kW. To ensure a smooth and comfortable driving experience, the Mercedes-Maybach EQS SUV 680 comes with an active air suspension and all-wheel drive. These features enable the car to deliver excellent performance in all driving conditions, and drivers will enjoy a smooth and quiet driving experience typical of high-performance electric cars.
Mercedes has made efforts to reduce noise inside the new Maybach EQS SUV. The car is equipped with a wide range of features designed to reduce noise to create a quieter and more relaxing driving experience. One of the key elements for reducing interior noise is the cover designed behind the rear seats, which seals the trunk and turns this space into a place for noise absorption. This feature should help reduce noise from the trunk area, which is usually one of the sources of noise in SUVs. In addition, the car is equipped with extra-laminated windows, which have an additional layer of material to reduce noise from road traffic and other external sources. Also, the new roof in the Maybach EQS SUV is designed to reduce interior noise and provide better sound insulation. Other features designed to reduce noise include an air suspension that can adjust the car's ride height based on driving conditions, adjustable dampers and a premium sound system that can incorporate background noise to create a more pleasant interior sound.
Pricing for the new Mercedes-Maybach EQS 680 SUV has yet to be officially announced. However, the price is expected to be significantly higher than the standard price for Mercedes-Benz's EQS SUV. According to sources from the Nova Rent a Car Airport Ia?i company, it seems that the starting price will be somewhere around 200,000 euros, making it one of the most expensive electric SUVs available on the market. It is important to note that the final price may vary depending on the options and equipment chosen by the buyer.
For NON-STOP reservations please contact us:
0765.237.772
contact@nova-rentacar.ro